What to do in Portland/Oregon
Suggestions for what to do in Portland or Oregon if you will spend some more time here (availability of a car assumed for most longer trips)
Popular Portland Local Attractions
Portland is known for its beverages: coffee, large variety of craft beer & cider, and wine from the Willamette & Columbia valley regions. Portland is a food-lover's paradise: the city is known for offering a whole range of cuisines from different parts of the world — do visit some of the restaurants!
Places Near Portland
There are several interesting places in the state of Oregon & the adjoining state of Washington; only a few are listed here. If you have a couple days to travel around, then consider the following:
The Oregon Coast
A relaxing getaway would be to drive west to the Pacific Coast, and then head south on Hwy 101 (quite scenic, most of it right by the Pacific). On the way, you could stop at the Evergreen Aviation Museum and/or the Tillamook Air Museum. In Tillamook you should stop at the cheese factory and have some ice cream in their shop. You should then go to Cannon Beach (see the Haystack Rock; you can park in the city or for free on one of the streets leading to the beach), and maybe nearby Seaside. If you have time to drive north on Hwy 101, you can go to Astoria and to Fort Clatsop. You can spend the night at Salishan Lodge (they have a restaurant too, need to check it is open). The next day you could drive south on Hwy 101 to see the Sea Lion Caves (worth paying the admission price only if there are many sea lions inside; if there are just a few or none, you can come on your next visit!), Newport and its Oregon Coast Aquarium and lighthouses (e.g., Yaquina Bay Lighthouse), Florence (just a nice city at the Pacific), and the Oregon Sand Dunes, where you can take a ride in a 'dune buggy'. Then take a shortcut going North East — maybe on OR-126 — to I5 (national highway), then drive north, and return to Portland. You can touch all these places in 1.5-2 days, but you would have to do some meticulous planning to see what fits in the schedule.
Picture: Haystack Rock at Cannon Beach Enormous basalt rock formations rise from the shore at low tide against a blue sky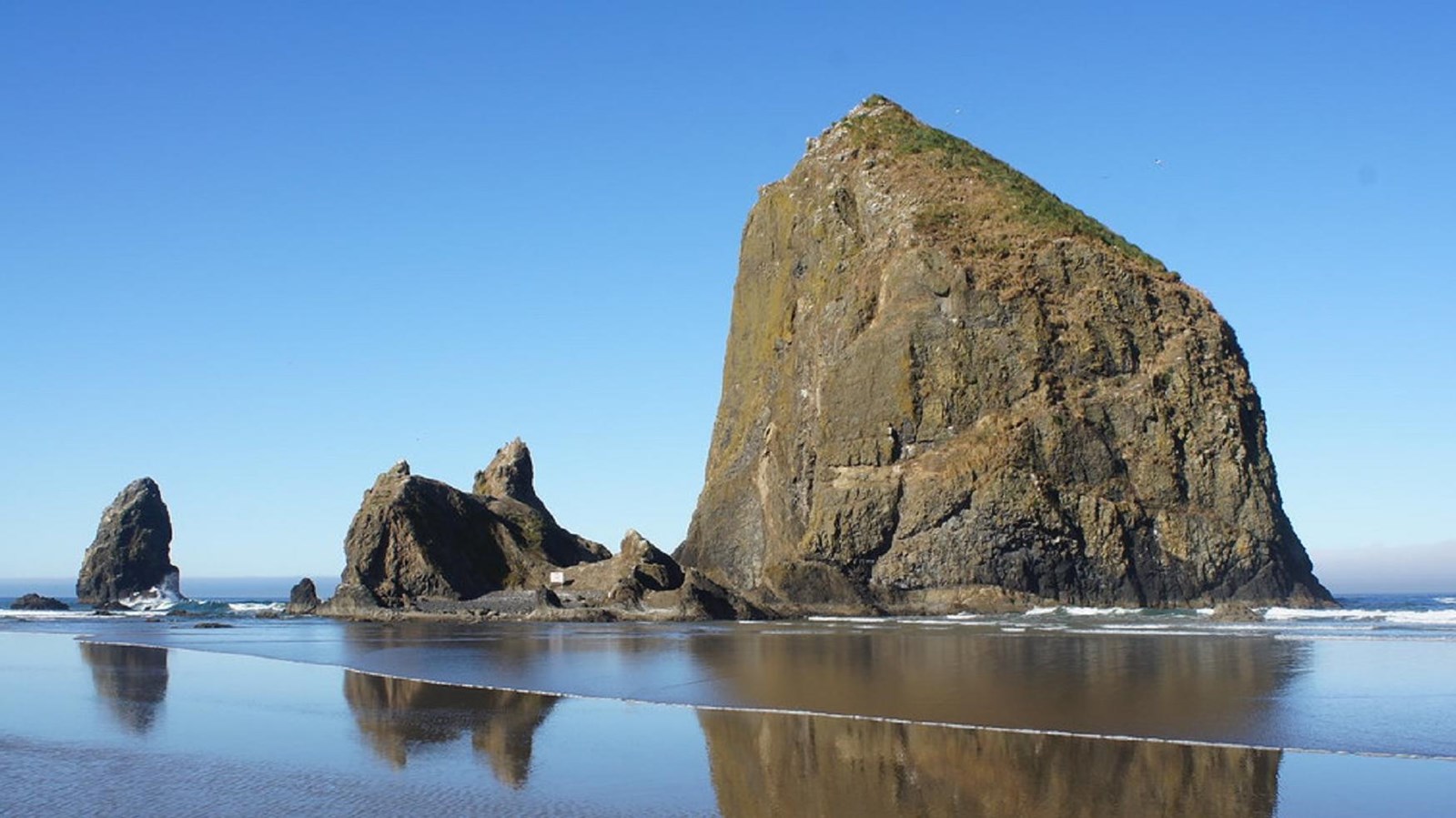 Multnomah Falls
You could also go to see Columbia Gorge — this is a beautiful area close to Portland (0.5 hour drive to where it begins, 1 hour to where the most interesting part ends); this could be a daytrip where you could visit Bonneville Dam and the fish hatchery next to it, the Columbia River Interpretive Center, Hood River (a city nearby) where you can take a train trip around Mt. Hood (in reality, you might not see the mountain from the train, but it is still a nice trip with an old train); you will want to see the waterfalls on Hwy 30, especially Multnomah Falls (a permit may be required between 10am-6pm); you can also see The Dalles (a city nearby); you could spend the night at Skamania Lodge (you would have to decide the order in which to see these places). in addition, there are a few state parks. E.g., Yeon State Park, where you leave your car at the entrance (do not leave valuables there) and then you can hike for about 45 minutes to a waterfall. If it fits in your schedule, you can make a trip to Mt. Hood (less than 1 hour by car), where you can see Timberline Lodge (it has a restaurant); you can probably ski too — some slopes are open year-round. Farther east on I-84 (the major highway you need to drive on for part of this trip), about 45 minutes from Hood River, you could see the Maryhill Museum, and a replica of Stonehenge.
Picture: Multnomah Falls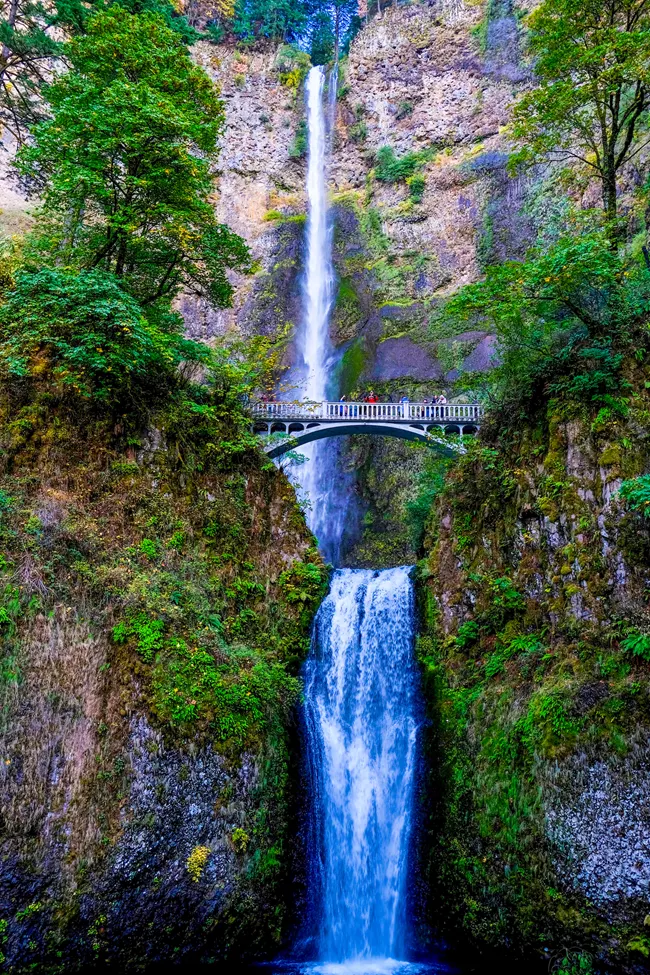 Mount Rainier National Park
The Pacific Northwest region of the US, in which Portland is situated, is known for its outdoors, and our next recommendation is the majestic Mount Rainier National Park, about 2.5 hours to the north east of Portland. Enjoy a whole range of activities like climbing, bicycling, hiking, fishing & boating in this National Park.
Picture: Mount Rainier National Park's Paradise area is famous for its glorious views and wildflower meadows

Oregon wine country
Oregon wine country: the name says it all! Enjoy wine-tasing in Willamette Valley. We suggest you call them beforehand to check if they're open on the day you plan to visit. You'll also find some nice brewpubs & distilleries in the region.
Picture: Vineyard in Willamette Valley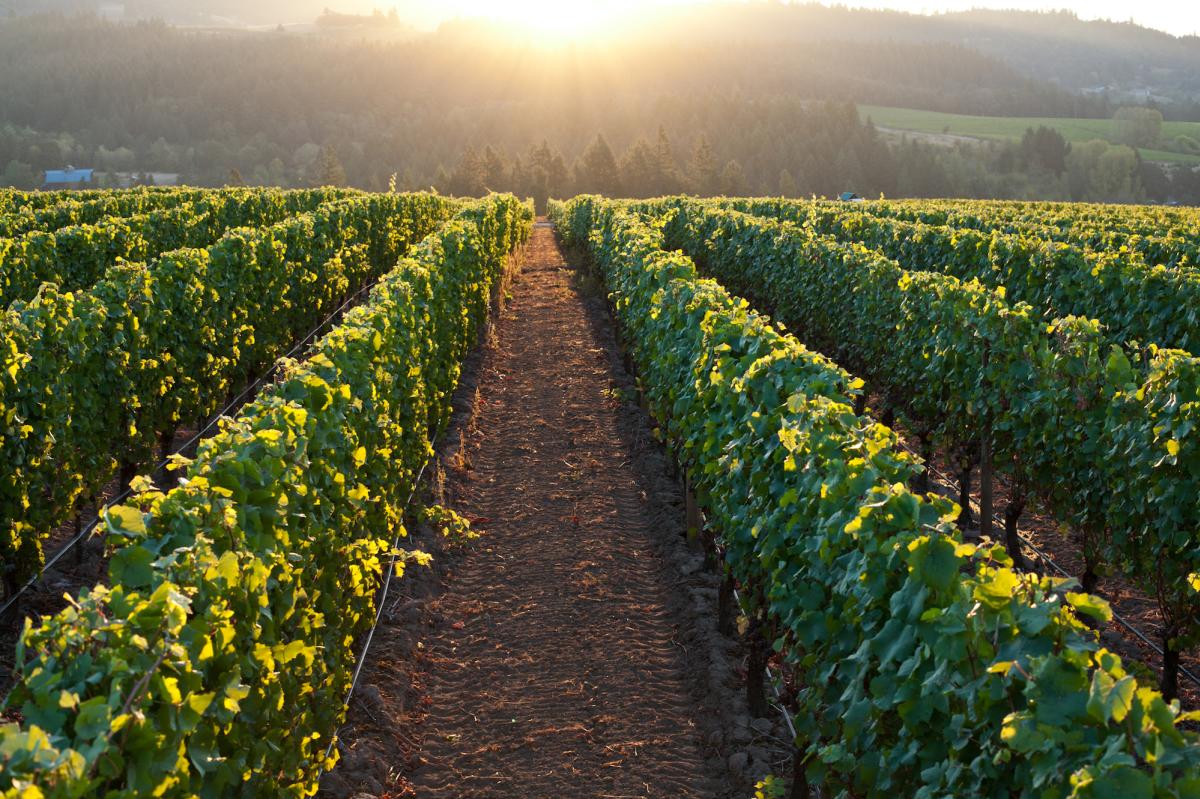 Crater Lake
On the way to this awe-inspiring lake atop the Cascade Mountain range, you could stop first at the wildlife safari park in Roseburg (less than 3 hours of driving; the park is actually in a place called Winston). After a good couple of hours here, you could go to Ashland (less than 2 hours of driving), where you could watch a play by Shakespeare (the have a summer-long 'Shakespeare festival' — tickets are best purchased in advance; note that some plays are modernized, placed in a contemporary setting; some are not). The next day on your way back to Portland you can visit Jacksonville very close to Ashland, and then visit Crater Lake (the deepest lake in the USA). The lake & surrounding areas are actually part of the Crater Lake National Park. There are several nice hotels to stay in Klamath Falls when visiting Crater Lake. Another nice play to stay in Ashland is Ashland Springs. It is best to stay near the city center.
Picture: Crater Lake, about a 5 hr drive from Portland A full view from afar of Crater lake showing caldera and Wizard Island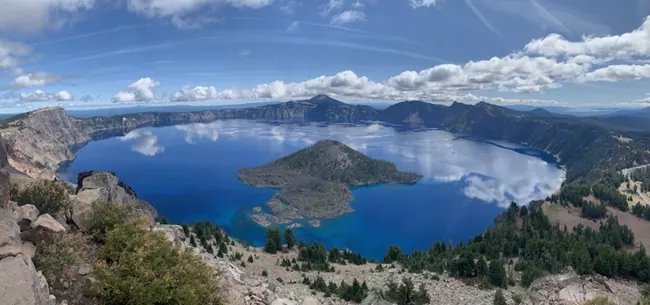 Painted Hills
Located about 4 hours to the south east of Portland, these hills are distinguished by varied stripes of red, tan, orange, and black. Combine this trip with a visit to the picturesque Bend region.
Picture: Photograph of the painted hills, weathered rocky hills with alternating tan and rust colored layers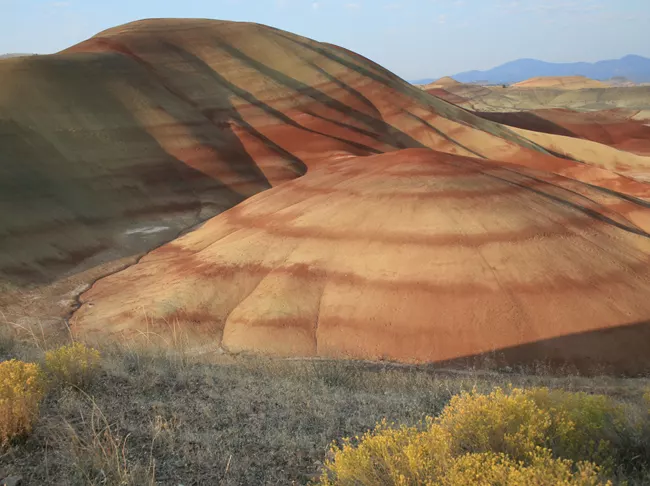 Seattle
For those who like the urban landscape, the city of Seattle is 3 hours away by car (with light traffic), but we suggest you make the trip only if you could spend at least a day there (and better more than that). There is also an option to take the train — the Amtrak Cascades.
Mount. St. Helens
About an hour away from Portland; the volcano erupted in 1980 and blew its top, so it is now less tall than it was then (and it has an almost flat top now — it was pointed before 1980). You can hike to the crater, & summer is the best time to do so with weather being favorable for this activity. Just an alert that this is for the more adventurous; and a climbing permit is required to be obtained in advance. Check this website for more details
Picture: Mt. St. Helens