Social Program
We've planned some fun social activities for the conference community across the days of the conference, that represent the flavors & spirit of Portland.
Note that participants will need to pay for some of these social activities (drinks/dinner on Mon; Japanese gardens admission & dinner cruise tickets on Wed) themselves, that is, these are not covered by conference registration fee.
Welcome Reception — Sun, Sep 3, 18:00-19:30 at the Benson Hotel
Day 1 — Mon, Sep 4, 18:30 onwards: visit to Pearl District Brewery block
The participants can have dinner at one of the breweries (on their own charge).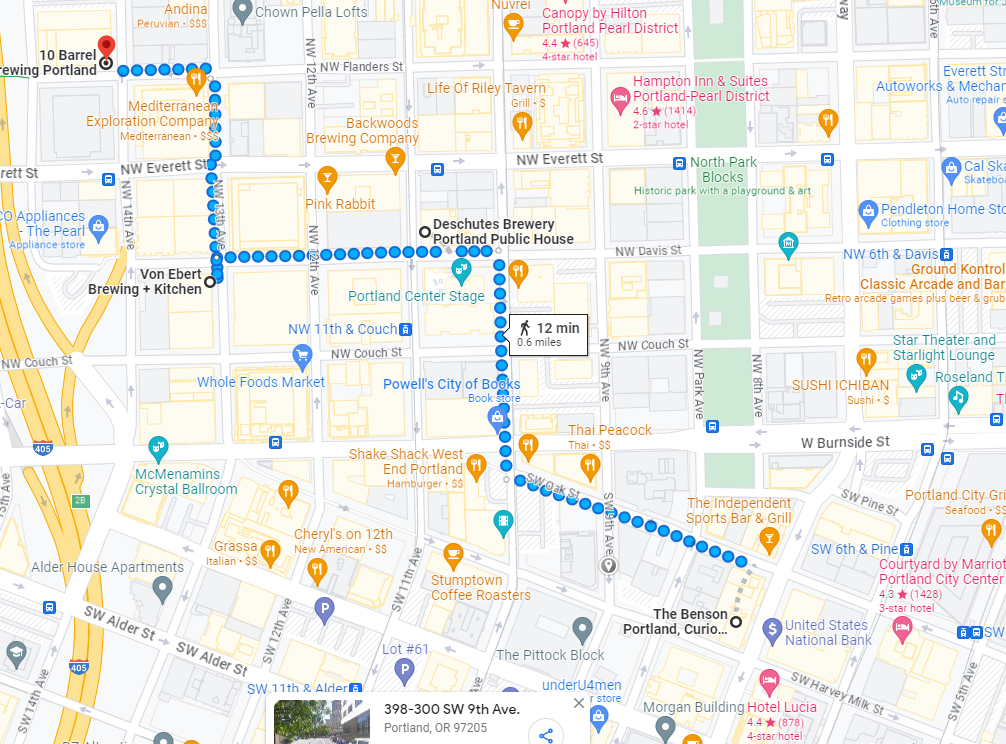 Day 2 — Tue, Sep 5, 19:00-21:00, Banquet at the Benson Hotel in the Mayfair room
Day 3 — Wed, Sep 6; 14:30-17:30, Rose & Japanese Gardens visit
After lunch on the last day of the conference, we've planned half a day of fun, social activities. We have arranged for transportation (at no additional cost) to the Japanese & Rose gardens, and for returning to the conference hotel after the visit.
We can go together as a group to the exquisite Japanese Garden, which is composed of several garden spaces — each representing unique aspects of Japanese garden history & design.
Last entry to Japanese Garden is at 4:00 pm, so we'll visit it first. Admission fee: $21.95 (not included in conference registration)
We'll visit the adjoining Rose garden next. Fun fact: Portland is also called Rose City. e prepared to be treated to roses of all shapes & sizes at this colorful garden!
Admission to the rose gardens is free.
Day 3 — Wed, Sep 6; 18:30-21:30, Dinner cruise on Willamette river
We have arranged a dinner cruise on Willamette river, that includes piano music and narration, for conference attendees and companion(s) on Wednesday, Sep 6th, between 6:30-9:30 pm. The dinner includes fresh baked bread, house salad, choice of entrée from menu (vegetarian option available) & a New York cheesecake dessert. The price of an individual ticket (group-discounted) is $101.04 (includes taxes & gratuity). Participation is highly encouraged! If you have specific dietary restrictions and/or need other accommodation, please let us know by contacting arith2023@arithsymposium.org.
You may buy tickets when you register for the conference using the registration link on the conference registration page. If you have already registered for the conference but not for the cruise, you may buy cruise ticket(s) by following the same registration link and then clicking on "Modify registration". After confirming details on a few screens, you will be able to see the option to buy cruise ticket(s).
If you are interested to participate in this social activity, we strongly encourage you to register for it by Thursday, Aug 24, so we can make appropriate arrangements. You may be able to purchase tickets after that date, but we may not be able to get you the group-discounted rate (price of an otherwise non-group-discounted ticket is about $128). We have arranged for transportation (at no additional cost) from the conference hotel to the boarding point, and for return to the conference hotel after the cruise.
Please note that our group will be photographed by the cruise company. If you so wish, you may purchase a printed souvenir photograph directly from the photographer about halfway through the cruise for $15.